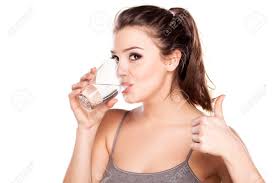 In yesterday's blog I gave you an easy calculation that will help you determine how much water you should be consuming every day. Just to remind you, that is 1/2 your body weight divided in half, will equal the amount of water you need to drink in ounces. For example:
130 lbs./ 2 = 65 ounces of water per day
Take a minute and calculate that now, if you haven't done so already. Write it down in a notepad and today I am going to give you more information with the hope of creating awareness. I truly believe that when we stop and take the time to educate ourselves and become focused, there is a greater chance to be successful with any goal, even getting on board with a healthy water habit!
The above calculation is of course just a number and each one of you is created differently, therefore water consumption will differ according to certain physiological variations:
Age
Height
Weight
Body Composition
Genetics
Metabolic Rate
Activity
This is getting too techy I'm sure for a lot of you so I am going to give you an easy to follow chart to use as you journey with me towards creating a healthy water habit, just for you! This is going to require bathroom homework and its not about looking at poop...we will get to that another time. You are going to take notice of your urine color. I am including a detailed chart from the Cleveland Clinic and what the color of your pee can tell you about your health and water intake. Click on Cleveland Clinic in order to access that chart. Our bodies offer us plenty of information to get us on track without having to overthink the situation. This is yet another simple and easy tool to use!
On Day 2 we now have a calculation to determine the amount of water to drink, and a chart that will help us to monitor the color of our urine and we are ready to get started. Tomorrow morning you will wake up and notice the color of your morning pee, it will always be more yellow in the morning when you wake up because your body has been at rest. This will inform you that it is time to hydrate! Since we have been repairing and detoxing through the night, my suggestion is to start your day with a tall glass of lemon water! I like mine warm and it gets my system moving in the right direction, in other words it helps me to eliminate! We can not underestimate this incredibly vital bodily function. I can emphatically say that we are as healthy as our ability to eliminate properly. Again, that will be for future posts!
I am including a Free printable water intake chart for your convenience. You can also download an app on your smartphone:
Water logged
Hydro Coach
Aquaalert:Water Tracker
Waterbalance
Daily Water
Hydrate Daily
Water Time Pro
One note before I finish this post...don't chug your daily water intake just because you need to fit it all in! Drinking too much water all at once is not necessarily a good thing so more to come on that! Enjoy this experience, like you would a delicious glass of wine! Okay,okay...I know I'm being silly! Seriously, have fun with this experience and let's see where this takes all of us! I'm joining you on this journey and I'll meet you bright and early tomorrow morning! Sending hugs!
Water refreshes and replenishes me. Water helps me maintain my good health and vibrant skin. I love water. I love drinking water. I drink enough water each day.