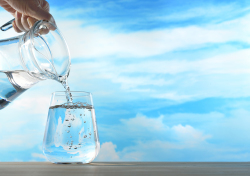 Today starts Day 1 for probably the most important habit towards optimal wellness. The human body is made up of 60% water and adequate hydration is vital! We have heard this, learned it in school and heard it in the media, but for some of us out there, it just seems to be a challenge! Maybe what you need is a little hand holding and awareness at the same time. Hearing it is one thing but getting coached and guided through the process of turning this into a habit that will last a lifetime, is another approach to success! That's why Mamma Lucy is here, so let's get going!
I won't fill your brain with too many facts on Day 1 and we will focus on awareness today. I want you to get a notepad and jot down every time you take a drink of water. Calculate how much you are drinking and follow your ordinary routine. Go about your business and do not pay particular attention to "having to drink water!" Take today with ease and let's make it about learning about ourselves first. What makes us tick and what are the reasons behind what we do! Where can we fit time in our day for taking care of ourselves? Do you see where I am going with this?
Although winter is seemingly coming to an end...although not with today's winter storm forecast...drinking enough water will protect us during cold and flu season. That being said, as Spring approaches, being in a healthy state of hydration, will have us ready for a Spring Detox program! Winter builds excess and a healthy water habit will keep all systems working efficiently and cleaning out the winter overload.
Drinking enough water helps us in so many ways...it is a no brainer to jump on this healthy habit game plan. How many of us want the following:
Healthy looking skin
Energy
Strong Immune System
Clear Thinking
Healthy Weight
Helps you poop every day
Overall better health
I promised not to give you too much information today, so let's leave it at this! Water is healthy, water is simple, water is easy! That's what it is about folks: HEALTHY-SIMPLE-EASY! I am going to close Day 1 with a simple calculation and we will continue our discussion tomorrow on Day 2. A general guideline in order to determine adequate water intake is as follows:
Body Weight/2 = water intake in ounces
Example:
130 pounds/2 = 65 ounces of water
This is just a guideline and remember we are all different, with individual biochemistry, activity levels, underlying health issues, age, etc. The point of this 7 day challenge is to determine what is right just for YOU!
Happy Day 1!
Water refreshes and replenishes me. Water helps me maintain my good health and vibrant skin. I love water. I love drinking water. I drink enough water each day.