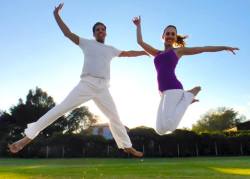 Congratulations! You made it to Day 7 and it is my hope that you are enjoying the benefits of proper hydration. It's about awareness, education and making a plan that works, just for you. We live in a fast paced world and slowing life down and focusing, is the key to success! My goal is to guide you through one healthy habit at a time and then before you know it, you are moving quickly towards thriving and not just surviving! Hydration will always be healthy habit numero uno!
This is what I want you to take away from this 7-Day challenge:
Stop saying you don't like water! The human body is mostly made up of water and proper hydration will help us to achieve our health goals. Switch your thinking and tell yourself that you do like water and before you know it, you will crave it!
Start every day with 8-16 ounces of water, infuse it with fruits/herbs if necessary and get the health benefits you deserve from this healthy habit. Let me remind you now: Better digestion, immune support, joint health, muscle function, brain health, better mood, weight-loss, etc. etc. A daily morning water habit may eventually replace your cup of Joe! We have more energy when we properly hydrate our body!
Listen to your body, it will tell you what it needs. Hunger can be sign that you are thirsty and drinking the right amount of water can help you eat less! This means you can lose a few extra pounds, if necessary!
Make sure to track the color of your urine, return to my Day 2 blog post for a color chart from the Cleveland Clinic! This will tell you if you are not drinking enough water, drinking too much water or if there may be other underlying health issues!
Don't wait to feel like you are stranded in the Sahara desert before reaching for a glass of water, at that point you are probably dehydrated. Calculate 1/2 your body weight in ounces and sip your water throughout the day. Make sure not to drink excessively a few hours before bed. It is important to get at least 8 hours of restorative sleep! Stay tuned for Healthy Habit Sleep Blog!
Thank you for joining me on this 7-day challenge! I hope it impacted you as much as it did me! Keep it going and remember Spring is truly around the corner. Winter has been long for a lot of us and we will want to cleanse with the seasons. Winter into Spring is the natural time to take a break and support our body's natural detoxification system. Spring seasonal vegetables are the best foods to support this process. The human body builds excess during the cold winter months and nature has a way of showing us what we need to do, by supplying us with delicious cleansing vegetables! More on this soon!
Keep on hydrating, my friends! Drinking the right amount of water is the first step towards your optimal health goals! Come in to my office for a blood analysis and let's see what your cells are telling us after this 7-day challenge! Thank you for joining me on this challenge and as a gift for following me, I am offering this informative test for a discounted price of only $50.
I raise my glass of water to you, Cheers to a job well done!
Water refreshes and replenishes me. Water helps me maintain my good health and vibrant skin. I love water. I love drinking water. I drink enough water each day.