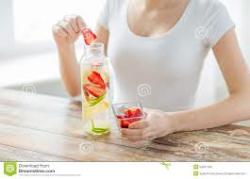 Good afternoon Lovetoeathealthy friends, it is day 5 of our challenge and I've been busy cooking for my family and drinking my H2O! I woke up this morning with extra energy and I am noticing a difference in my complexion. I am experiencing serious benefits and I am excited! We all know what the experts tell us about hydration but some of us don't take the time to put it into action. Once we take the steps, we realize it isn't as difficult as we thought. My hope is to change your life for the better, with this 7-day water challenge.
Today I want to bring up an important subject, plastic water bottles; are they a Nay or a Yay? Plastic is questionable, even BPA free. Is it ideal to drink daily water consumption from plastic water bottles? I need to be honest with you and the answer is going to have to be, Nay! This is because chemicals will seep into the water and we are just not sure how this can impact our health for the long-term. It is my job to teach you the truth and what healthier options are out there for you. Plastic water bottles can be used when that is your only option, therefore occasionally. In December I attended a destination wedding in the Dominican Republic and it was a must to drink bottled water. A note, glass water bottles were not available. Take a look at this article from Mindbodygreen.com and the 7 reasons never to drink bottled water again.
I know what you are thinking, if I can't drink bottled water, what do I do now? You can purchase a case of glass water bottles but that can get expensive and not as convenient. There are many options out there for glass refillable water bottles with a silicone protective cover. They can be purchased online and if you are a TJ Maxx fan, you can sometimes find them there. My go to are Lifefactory glass bottles, they were the first of this kind of water bottle that I was made aware of, and since they don't break, I am still using it today! Just think of the positive impact one can have on the environment!
Now let's get on the topic of tap water since bottled water isn't a perfect idea, should we drink from our home faucet? Well, its not that simple because our tap water can be contaminated with toxins such as herbicides, lead and arsenic. I'm not writing this to stress you out, instead to give you solutions. Your next best option is to purchase a good filter. I had a reverse osmosis filtration system hooked up under my kitchen sink, years ago, thinking this was the best way to go. It is certainly a very effective method to purify good ol' tap water but I came to learn that it strips all minerals out of the water. That is not a great idea since mineral deficiency is an issue that many people struggle with and don't know it! You can supplement as I do with a good trace mineral added to your water. Re-mineralize reverse osmosis water by adding 20-40 drops to per gallon of water! I had the privilege to be mentored at the Institute of Integrative nutrition by Dr. Mark Hyman and he recommends an above counter water filter which will be an inexpensiive option compared to a RO system.
Hope you are getting on track with this #1 healthy habit! If you feel you are taking a few too many trips to the bathroom, have no fear this will get better as your body continues to hydrate. Don't forget if you eat a plant base diet and a lot of raw fruits and vegetables, these are hydrating foods and can count towards hydration! Your body will always maintain balance, use what it needs and naturally get rid of the excess. Just keep in mind that all our organs and cells are made up of water and we need adequate water to be healthy and feel healthy.
Lifting my glass water bottle up to you and saying Cheers to another day of success, as we hydrate together and become the healthiest version of ourselves!
Water refreshes and replenishes me. Water helps me maintain my good health and vibrant skin. I love water. I love drinking water. I drink enough water each day.