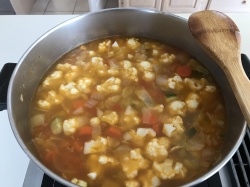 I love living in New York and experiencing all the seasons but right now it is Brrrr cold. This is when making soup becomes the mainstay in my healthy kitchen. First of all, just the aroma alone sends a message to my body that its all going to be okay and soon it will feel like I'm sitting on a beach in Florida, enjoying the heat of the sun! Okay...lol...I'm getting carried away, but it does take that chill away as you savor a hot bowl of nourishing soup.
My first step is routine now, every Saturday I make a big pot of stock. That can be chicken, beef, vegetable or whatever works best for you. If time is an issue, then freezing different stocks is a great idea. Making your own stock is not difficult and it is a healthy habit that I highly recommend! Check out the recipe I use: Grandma's Chicken Soup.
I did a refrigerator clean-up yesterday before heading out to the market. I had a lot of raw vegetables leftover from holiday cooking and I decided to turn them into a hearty vegetable soup. The result was a bowl of yum for dinner and I had it for breakfast today. Oh so good! Let me add that I made fresh chicken stock on Saturday so the prep was easy.
Here's my New Year Soup Recipe:
2 medium onions
4 stalks of celery
6 medium size carrots
4 diced golden potatoes
3 cloves minced garlic
2 bay leaves
3 small diced tomatoes
1 zucchini
4 cups of cabbage
1 small cauliflower
2 tablespoons Ghee
Himalayan Sea salt
72 ounces of stock
Directions:
Sauté veggies with Ghee. I start with garlic and onion. Add celery, then tomatoes, carrots and the rest of the veggies. Add stock and seasonings. Cook till the veggies are tender and flavors are incorporated, about 1 hour. Try this in a crock pot if time is an issue.
Cut veggies ahead of time and store. Making the soup is simple, it's the prep work that takes time and the decision to do it. Go for it! Your body will be forever grateful! No better way to get healthy! Yum!!